The origins of western culture and crossroads of the modern world.... More appeal than charm - Greece offered a seemingly endless itinerary of significant places and things to do. It truly astounds with its many contrasts, rich history and beautiful scenery. On the advice of the local people I met, I tried to open my mind to the threads of reality lying beneath Greek mythology and to feel the rhythm of the thousands of years of civilization that had occurred where I was walking. It takes a lot to sweep me away nowadays when I travel, but Greece succeeded. It was the most "mystical" spot I have visited since my first trip to Paris in '95. Following some business meetings in the Netherlands, I spent four days on mainland Greece in mid-January touring Athens & Sounion, the Argolis region of the Peloponnese and Delphi. I felt I barely scratched the surface of what Greece has to offer. I'll be back - next time to the islands. You can click on the map at the right or use the navigation buttons at the bottom of this page to view individual pages for each area.
Impressions...
Greece is about the size of Texas, but it has huge amounts of coastline and mountains, offering postcard views around every corner (e.g. large picture at the bottom left of this page). The countryside is filled with olive trees and orange groves. The people were generally friendly and helpful - continuing my experience that in Europe you can always get along well even if you only speak English, as long as you are willing to ask for help. The Greek alphabet posed a bit of a problem on some signs, but most were printed along with their roman alphabet counterpart. Since Greece is part of the European Union, the Euro made exchange rates and money matters simple. Touring Greece forces you to reset your "history clock". Old is no longer hundreds of years - instead old is measured in millenniums. Modern Greece is appealing as well with good food, world class art and Athens completing its impressive new infrastructure for the 2004 Olympics.
I realize that many of the pictures on these pages will look like a slightly different take on the same ruins over and over, but when you stand in these spots they are as different as can be. The four pictures below are a quick history countdown - first is the 3500 year old Lion's Gate at the Citadel of Mycenae in the Peloponnese, second is the 2500 year old Temple of Apollo in Corinth, third is the 1500 year old Sanctuary of Athena in Delphi and fourth is the 1000 year old Monastery of Osiou Louka 60 miles southeast of Delphi.
Travel hints...
I got a lot of insights from Matt Barrett's Athens Guide website along with the usual complement of Fodors and Frommers tour books. Doing my trip in January - off season - seemed to offer more advantages than disadvantages. Everyone advised me that there would be big crowds at the major tourist sites and that Athens was badly polluted. Neither situation existed in January - most tourist sites were deserted and the air was clear. January also offered daytime temperatures in the upper 50s to mid 60s F, which was perfect for climbing the many hills and steps of the ancient sites. I flew from Brussels on Olympic Airways, which was bad, but not as bad as the horror stories I had heard from other travelers before the trip. Food was a joy in Greece. I especially liked the fried cheese pies, grilled lamb "barbarian style", stuffed cabbage, Moussaka (loved this since I was introduced to it in college) and plain natural yogurt with honey and walnuts on it for dessert. A suggestion for those who are postponing world travel until they retire - the cliffs and temples in Greece are not for the old and feeble - go while you are still young enough to experience these places up close.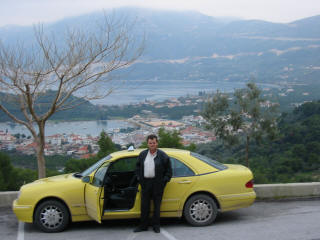 I did my airport transfers, two full day tours and one half day tour with George, the famous taxi driver - and I highly recommend him to anyone headed to Athens (large picture at the left, along the road north to Corinth from Epidaurus). George isn't cheap, but he's still a bargain. He knows everything about the history, culture and area. His English is very good and he is a safe driver. I probably covered five days of vacation in four because George always knew where, when and how to see the sights, how to find authentic Greek food with a good view and where to get real souvenirs at the right price. Having George's Mercedes to keep my stuff in allowed me to bring an extra coat, drinks and tour books that I otherwise wouldn't have bothered to carry. George is also one of those increasingly rare, genuinely nice guys. The kind of person you feel glad that you met in your travels. You can contact George Kokkotos from the US at george_loula@hotmail.com or 011 30 210 963 7030 (voice), 011 30 93 220 5887 (cell), 011 30 210 963 7029 (fax).

Mackey Group, Inc. © 2002 - 2010
<![if !vml]>

<![endif]>