Thanksgiving week with Craig in Athens, Delphi and Crete... My return to Greece, this time with my 16 year-old son Craig, was every bit as fascinating as my first trip there in January 2003. Greece truly astounds with its thousands of years of history, beautiful scenery and mythological flair. For the second time, I left knowing I would return again because there is yet so much remaining: islands to explore, moussakas to savor, aghiorgitiko wines to sip.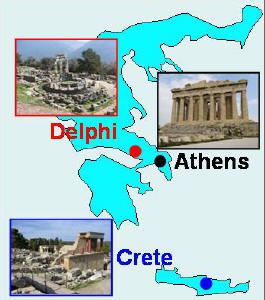 Our local high school decided this year to make all of Thanksgiving week a vacation, so Craig and I took the opportunity to spend a day in London and five days in Greece touring Athens, Delphi and Crete. Between the two of us we took almost a thousand pictures that I've attempted to cull into these four humble pages. You can click on the map at the right or use the navigation buttons at the bottom of this page to view individual pages for each area.
Getting oriented...
Rising early on Saturday we flew 5 hours from LAX to JFK, then 7 hours to London Heathrow on American Airlines, transferring to British Airways for the final 3 hour flight to Athens. Athens is 10 hours ahead of Pacific time. Arriving in Athens on Sunday evening, I bought a €18 TIM F2G ConnectPac for my cell phone allowing us to be connected to both the US and Greece with a low cost local number. Most everything in Greece was more expensive than on my last trip here in 2003, due to a weaker US dollar and a booming Greek economy. The weather was wonderful throughout our trip with unseasonably warm days (mid-60s °F) and just a couple evening rain showers. We used one driver (John Ervanitakis) on the Greek mainland for our airport transfers as well as the Delphi day trip and another driver (Lefteris Nikiforakis) for both days on Crete. Private drivers added some expense, but allowed us to cover a lot of ground in a short time. We found the Greek people to be very friendly and helpful and didn't experience any language difficulties speaking only English.
Itinerary...
After unpacking on Sunday evening, we headed to Syntagmatos Square for dinner at the Hard Rock Cafe followed by a walk around the square and Parliament building before retiring early for a long night's sleep. Armed with just a map and some preparation, we spent Monday, our first full day in Greece, on a walking tour of Athens. The first picture above is at the foot of the western face of the Parthenon. The second picture above is in the Ancient Agora where Socrates and Plato once walked. On Tuesday we did a full day road trip to Delphi with a stop on the way back at Hosios Loukas monastery. The third picture above is at the magnificent Tholos with ancient Delphi and the seat of the Oracle on the hillside in the far background. On Wednesday morning we were off to Athens airport for the 30 minute Aegean Airlines flight to Crete, with a quick stop along the way at Mt Lycabettus for a view overlooking Athens and the Acropolis (small picture at the top right of this page). We spent the remainder of Wednesday and all of Thanksgiving day touring Crete. The fourth picture above is at the Venetian inner harbor of Heraklion, Crete with Koules fortress in the background. We returned to Athens on a late night flight Thanksgiving evening. On Friday afternoon we flew to London and enjoyed a leisurely walk, then dinner at the Peacock Pub near our hotel (large picture below). On Saturday afternoon we flew home direct from London Heathrow to LAX.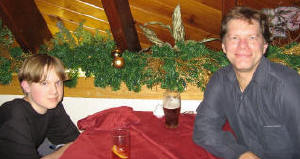 Mackey Group, Inc. © 2002 - 2010
<![if !vml]>

<![endif]>