A father-son two-week trek, "ridin the rails" through central Europe...

Night panorama shot of the Hohenzollern rail bridge, gateway to Cologne, Germany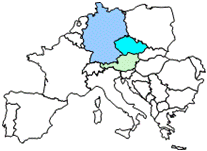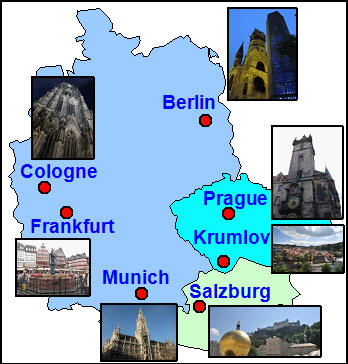 Craig and I have traveled together for many years during his school breaks, most recently to Italy in 2009, Puerto Rico in 2008, Australia in 2007, Greece in 2006 and Costa Rica in 2006. An end of summer opportunity presented itself again between Craig's sophomore and junior years at UCLA, so with a lot of advance planning accompanied by a lot of frequent flier miles burned, off we went for two weeks to tour central Europe. Adding a new element, we decided to buy Eurail passes and do all of our ground transportation using Europe's much vaunted high speed rail system. We began and ended our ground travel in Frankfurt, Germany, completing a circle through Berlin, Prague, Munich and Cologne with some side day trips along the way.
Armed with plenty of photographic equipment along with some recent education in photography, between the two of us we took over a thousand pictures that I've culled into these five humble pages. You can click on the map to the right or use the navigation buttons at the bottom of this page to view individual pages for each region. The "Rhineland" includes Frankfurt, the Rhine valley castle towns and Cologne. "Berlin" includes Berlin proper and a day trip to the Sachsenhausen concentration camp memorial site. The "Czech Republic" includes the city of Prague and a long day trip to medieval, bohemian Český Krumlov. "Bavaria" includes Munich, a half-day trip to the Dachau concentration camp memorial site and a day trip to Salzburg, Austria. The weather was nearly perfect throughout our trip (~70°F highs), with just a few threats of rain over the entire two weeks.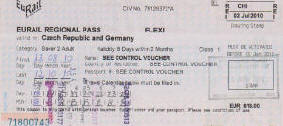 Our experience with the DB and Czech rail systems over the two weeks that we were using them was good, but not great. We learned to love no security checks. All the seats have plenty of room and you can get up and move around anytime. Trains were fast, some much faster than others. But our trains were late as often as they were on time and a couple of the trains had major breakdowns - like all the air conditioning gone on one very hot 2 hour stretch. Seat reservations are confusing and twice were not honored because of last-minute configuration changes, even after paying €18 extra for the reservation ahead of time. First class cars were better than second class, mostly because of smaller crowds, but the food was below the level of any airplane economy class.
Getting there...
Our best flight option to Frankfurt required a stopover in Chicago for a day, so we used the opportunity to do a little sightseeing in the windy city. We arrived in Chicago from LA in the evening, checked into the Renaissance Downtown and walked east and then south along the river to the former Sears tower, now called the Willis Tower, which is the tallest building in the western hemisphere. We took the elevator to the top, grabbed some pictures from the Skydeck and finished the evening with a late dinner at the Emerald Loop Pub. The next morning we walked to the northeast corner of Millennium park to do a three-hour Segway tour of the city. It was the first time for both of us on a Segway and although we certainly looked geeky (first picture below), it was a lot of fun - highly recommended! After a leisurely turnaround at our hotel we took a limo to O'Hare to catch our 7:30pm flight to Frankfurt.
| | | | |
| --- | --- | --- | --- |
| Chicago Segway tour | Rhine castle towns | Prague Castle at dusk | Salzburg Mirabell gardens |
Itinerary...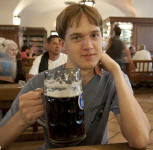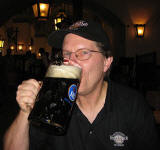 After our stopover day in Chicago and flight to Frankfurt, we used Thursday afternoon August 12th to tour Frankfurt's downtown. On Friday we spent the whole day cruising the Rhine river valley from Bingen to Koblenz. The second picture above was taken on board the river boat. On Saturday the 14th, we took a high speed train to Berlin (~4 hours) where we stayed for three nights. On Tuesday the 17th we took the train to Prague (~5 hours) for another three night stay. The third picture above is a shot taken along the banks of the Vltava river just after sunset with Prague castle in the background. On Friday the 20th we took the train from Prague to Munich (~6 hours) where we stayed for another three days, including a day trip across the border to Salzburg, Austria (fourth picture above). On Monday the 23rd we took a high speed train to Cologne (~4 hours) where we spent our last day and night before returning home. Click on the buttons below to follow our trek.
On Tuesday morning August 24th we took the morning high speed train from Cologne directly to Frankfurt airport (~1 hour) and boarded our plane back to Los Angeles via Dallas. All in all, another excellent father-son European adventure.

Mackey Group, Inc. © 2002 - 2010
<![if !vml]>

<![endif]>