When I was child on vacation...
...with my parents in New England, we came upon a St. Bernard at a hotel. I was intrigued by these huge domestic animals. It became a goal of mine to own a St. Bernard once I made my own way in the world.
You really - REALLY, have to be a dedicated dog person to love St. Bernards. They drool, shed and have uncountable medical problems because of their size. Owning a St. Bernard keeps you from having any illusion of control over your life.
All our Saints were house dogs. Shortly after buying our first house, Mary Lou and I bought our first St. Bernard, Ralph (first picture above at 8 weeks). We bred Ralph (yes Ralph was a "she") and kept one of her 12 puppies, Bogart (second from left with wrinkled forehead in second picture above). After Bogart died at 12 years old, we bought Rufus (third picture above at 8 weeks) whose 160 pounds of hair, drool and adventure was a part of our family's life for over 11 years. Rufus left us for the St. Bernard pass in the sky in October 2007.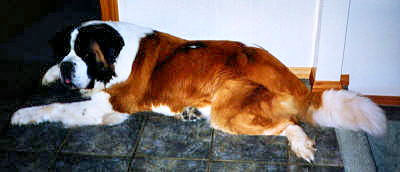 In July, 2009 we once again joined the dog world, rescuing two "Gentle Giants" - an 11 month old Great Pyrenees named Charlie (first picture below) and a 14 month old Borzoi named Leo (second picture below). The third picture below shows Craig, Leo, ML, Charlie, Ashley (Ben's girlfriend at the time) and Ben at the rescue center getting acquainted.
Charlie and Leo quickly adjusted to each other and to our family. The pictures below were taken three months after they arrived.
Charlie passed away far too soon at the age of 5 in 2014. Leo held down the fort all on his own until March of 2016, when we inherited two collies, Norm and Thunder. Thunder, who was 14 when we got him, lived only 6 months. We hope we gave him a good end of life experience. Leo was the happiest and healthiest dog we ever owned, but in March, 2018 he fell ill one day and died the next from a growth on his spleen that burst. Leo was just under 10 years old. Norm lived to 12 and passed on in 2021. We've done our bit for "dogdom" and are not planning on any more pets.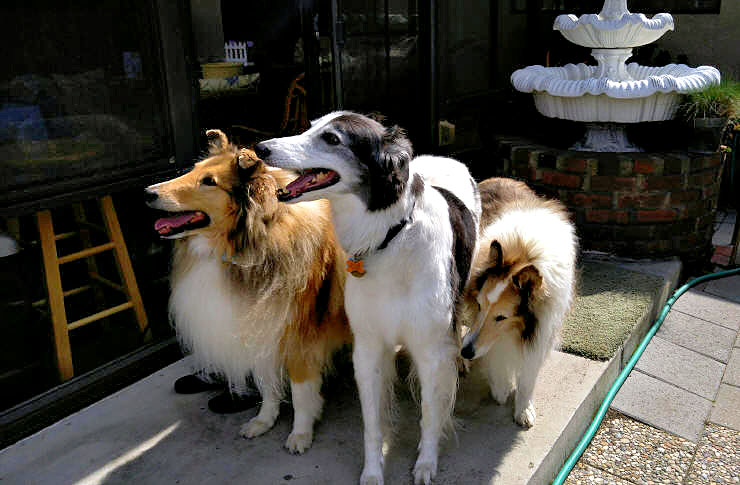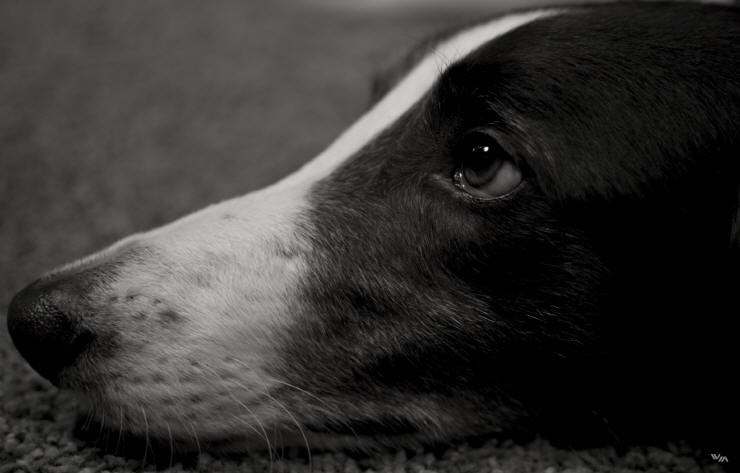 Pet care is a constant responsibility as well as a labor of love for any pet owner. Animal medical science continues to advance and at the same time provides some tough choices. Alternative medicines for pets show great promise. Follow this link for "Randy's Story", contributed by Shelley Kraft, which is her personal account of using acupuncture to greatly improve the last years of her cat's life.

Mackey Group, Inc. © 2002 - 2021