Going "Sideways" - in a good way...
In the fall of 2015 we decided that we would replace our cabin in the woods with a vacation home in Santa Barbara's wine country. In early 2016, we found an eclectic place in the Vandenberg Village area of Lompoc. It needed some work, but wasn't just a money pit, fixer-upper. We dubbed it the "Winery", although the only grapes that will ever be on the property are already fermented and in bottles. It is located just 15 minutes from a couple of my favorite wineries, Melville and Babcock, and about 30 minutes west of the more well-known areas of Buellton and Solvang. According to a local Santa Rita Hills AVA winery map, there are over 100 wineries within a 40 minute drive.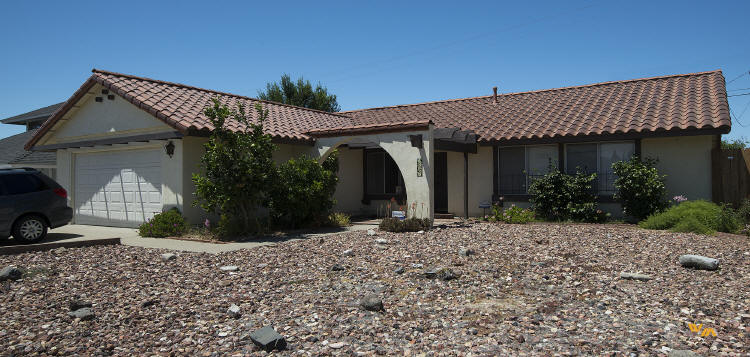 Vandenberg Village is adjacent to Vandenberg Air Force base which is the only west-coast US space port. It is also one of the country's largest space ports, along with Cape Canaveral. We saw our first launch in March 2017 and many more since then. When the larger rockets blast off, there's a loud sound like thunder and a rumbling that doesn't stop for a couple of minutes at our place ten miles away. It rattles the doors and windows. Every dog in the neighborhood starts barking. The first six pictures below show the view from our back yard.
Take-off from Pad 3E

Close-up

Down range trail

SpaceX booster falloff

| | | |
| --- | --- | --- |
| Night launch | SpaceX down range | Down the street to Santa Rita Hills |

Our "winery" along with the whole neighborhood was built in 1967, and still has a 60s suburbia vibe. There were some eclectic features of the place that drew us to it. We have a view of the Santa Rita Hills looking south down our street (last picture above). There are two unique room additions - a large indoor spa room off the master bedroom with a 1981 vintage in-ground spa (first picture below), and a long narrow room off the kitchen with two fireplaces that we dubbed the "wine room" (second and third pictures below). We use the wine room for entertaining friends and it doubles as a very cozy spot to curl up with a good book. The kitchen was updated before we bought the house and we have made some major improvements since (fourth picture below).

The spa room

Wine room fireplace end

Wine room bookshelf end

Updated kitchen

The "sunset room" (first picture below) at the back of the house offers a westward view over our back yard fence across the high school parking lot (second through fifth pictures below). We sometimes get some nice sun rises as well from our front entrance (sixth picture below).

| | | | |
| --- | --- | --- | --- |
| The "Sunset room" | Summer sunset over the high school | Colorful spring sunset | Fall sunset over a glass of Pinot Noir |

| | |
| --- | --- |
| Rainy winter night view from the "sunset room" | Sunrise through the arch |

There were many things that needed work once we closed. The entire electrical system was sub-par, I assume the result of many amateur modifications, so I got going on that right away. I changed all of the locks and added double deadbolts where needed. There was a lot of cleaning and painting and furnishing that continues. The fence around the property was a mess, and since we have two dogs, neither of which would be classified as brilliant, that was a top priority. The first and third pictures below are sections of the original fence and the second and fourth pictures below show the new one.

| | | | |
| --- | --- | --- | --- |
| Side yard fence - before | Side yard fence - after | Back yard fence - before | Back yard fence - after |

Getting the in-ground spa working again required significant engineering. While the shell itself was intact, the equipment was a disaster (first picture below). Because in-ground spas are relics nowadays, I had to devise a way to use available new equipment in an application that it wasn't designed for. After clearing away the old equipment, running all new wires and using an outdoor plastic shed as an enclosure, the equipment was brought into the modern age in an unobtrusive way, shown in the second and third pictures below. All of that work culminated in a nice bubbling in-ground spa (fourth picture below).

Old spa equipment

New equipment cabinet

New spa equipment

The end result, ahhh

In winter 2016 / 2017 we did some landscaping in the front and back yards (four pictures below).

Back yard artificial turf

Front entryway red mulch

Front terraces red mulch

Side yard red mulch

In December, 2017 we hired a contractor to replace the master 3/4 bath (first picture below) with a nicer full bath (second and third pictures below) and we installed a much needed mini-split air conditioner (fourth picture below).

Master bath before

New master bath counter

New master bath tub

Mini-split A/C

In July 2018, we took on remodeling the guest bathroom ourselves, retaining the same floor plan, but replacing everything but the tub. "Before" shots are in the first and third pictures below and "after" shots are in the second and fourth shots below.

Guest bath before from hall

Guest bath after from hall

Guest bath before from tub

Guest bath after from tub

Mackey Group, Inc. © 2002 - 2021
<![if !vml]>

<![endif]>